FBI returns stolen Tom Brady jerseys to New England Patriots
After a nearly six-week investigation ended with Tom Brady's stolen Super Bowl jerseys being found in Mexico, the FBI made a trip to Gillette Stadium on Thursday. With the memorabilia apparently authenticated, the stolen jerseys from Super Bowls 49 and 51 were returned to the New England Patriots and owner Robert Kraft.
The FBI posted a picture from their Boston account showing the two jerseys alongside the Patriots' five Lombardi trophies.
#FBI visits NFL's Gillette Stadium to return recovered Super Bowl jerseys worn by @Patriots MVP Tom Brady ​https://t.co/BBAA8T3pSg pic.twitter.com/3XZBm77cau

— FBI Boston (@FBIBoston) March 23, 2017
And Kraft responded with a written statement thanking everybody involved in the investigation that brought two treasured pieces of history home.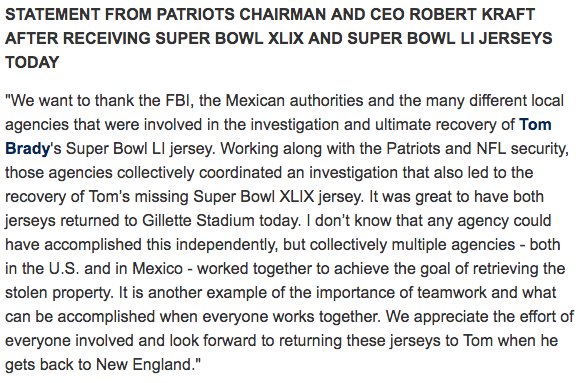 Ultimately, several government agencies in both the United States and Mexico collaborated with NFL and Patriots security details to use media footage from Super Bowl 51 to track down the alleged thief. Mexican newspaper executive Martin Mauricio Ortega was shown on footage apparently making off with the jersey and the jerseys were reportedly found while executing a search warrant on his residence.
In addition to the two stolen Brady jerseys, a Broncos helmet that might have been Super Bowl 50 MVP Von Miller's from the night of the big game two seasons ago was also found. Ortega currently faces no charges.
Brady's jersey from his fifth Super Bowl title was estimated to be worth $500,000.